Fire Evacuation Chair Training Onsite Throughout Hertfordshire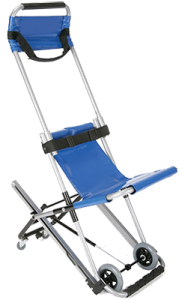 It is a legal requirement to have in place means to evacuate a building in an emergency and understanding how to evacuate a building safely in an emergency situation is very important, especially if there are disabled, the elderly, or mobility impaired people within the building at the time of the emergency.
Training is offered by Online Fire Marshal Training who offer an onsite fire evacuation training programme for companies and groups, which is designed to give the operator the confidence to act safely and also understand the current legislation when using an evacuation chair.
They offer onsite fire evacuation chair training in Hertfordshire and this course is an ideal training solution for care homes, hotels, doctors & dental surgeries, pubs & clubs, office staff, council offices, restaurants, shops and department stores and more, as it will help any operator gain the confidence in the use evacuation chairs.
Training is offered throughout Hertfordshire and they cover a wide area including Watford, Royston, Stevenage, St Albans, Hertford, Tring, Rickmansworth, Helel Hempstead, Bishops Stortford, Harpendon and all surrounding areas and can generally fit training in to suit your requirements.
They will bring all the necessary emergency building evacuation training equipment to conduct your onsite fire evacuation chair course programme for your company or group, or they can use your companies evacuation chair if you have one on the premises.
For additional information regarding the onsite training for the use of evacuation chairs, or any additional online training programmes that they offer see their website by following this link: Fire Evacuation Chair Training Hertfordshire